Tooth imperfections like cracks, chips, gaps, and discoloration can cause you to feel embarrassed and hide away your smile.

Drs. C. Mike Meek and Dr. David J. Tasch can mask dental flaws and transform your teeth with stunning, porcelain veneers.
Find out why veneers are such a popular option among our patients in the greater Austin, TX, region...
A Closer Look at Dental Veneers
A dental veneer is a custom-made shell placed on the front surface of your tooth to conceal various aesthetic imperfections. Our practice in Austin, TX, also offers "no-prep" Lumineers® which can be placed without reshaping your natural teeth.
At 38th Street Dental, the cost of veneers is approximately $1,200 per tooth. We manage to keep our prices fair and low compared to industry averages, while maintaining the highest quality standards. To help make treatment more affordable, our Austin practice accepts flexible financing plans through CareCredit® and Lending Club.
Ready For A Change?
Schedule an Appointment at 38th Street Dental
You don't need to go through life feeling self-conscious about your smile. Our modern practice offers a full range of state-of-the-art cosmetic dentistry, including modern dental veneers. Drs. Meek and Tasch will be happy to meet with you to discuss your options and help you make the best decision for your dental care. In just a few simple appointments, we can transform less-than-perfect teeth into a gorgeous movie star smile. Get started today and begin to enjoy life with better self-confidence. You can reach our Austin, TX, dental practice online or by calling:
"If you're looking for a Great dentist, your search is over!"
Always a pleasure. Love love Dr Meek! He has changed my view of Dentist. I trust his wisdom and knowledge. He never does work that doesn't need done. Great bed side manner and explains the situation entirely so I know what to expect. If you're looking for a Great dentist, your search is over! He is the absolute BEST!!
View on Google
Top flight technical and administrative staff. I can witness that Dr Tasch Is top flight. AND...given that every time I go back they have a new piece of dental technology, they apparently aren't afraid to invest in their business of serving their patients using "the best".
View on Google
Candidates for Porcelain Veneers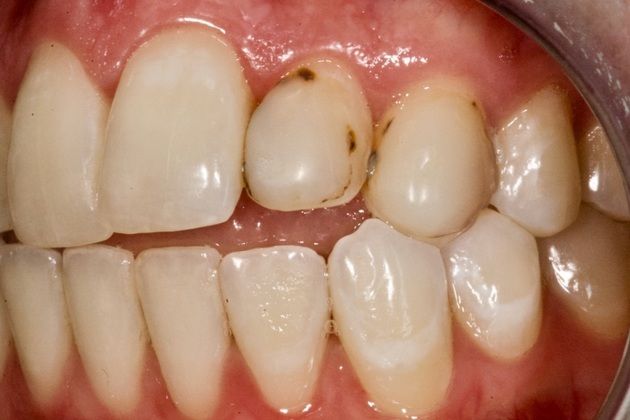 Most of our patients in the Austin area make good candidates for porcelain veneers. To qualify for treatment, you primarily need overall good oral health. Teeth with cavities or previous fillings may not be strong enough to withstand the preparation process and may be better suited for a crown. Furthermore, gum disease, bruxism, and other conditions can affect your results and will need to be treated prior to cosmetic upgrades. During your consultation, we will go over the requirements and help you decide if porcelain veneers are a good long-term option.
What to Expect During the Procedure


Take a look at the timeline for traditional porcelain veneer treatment at our Austin practice...
Patients can enhance a single tooth, or transform the aesthetics of their entire dental arch with this highly customizable procedure
"I have always had the most personal and professional treatments at 38th Street Dental. The staff is so caring. I would tell anyone to go here. They will never disappoint!"

Mona Ullrich
Check Out the Results of Our Dental Veneers

Pictured below is a real patient of our Austin practice who wanted to correct the spaces between their front four teeth. Our dentists treated him with traditional porcelain veneers supplementing the size of the teeth, and closing the distracting gaps.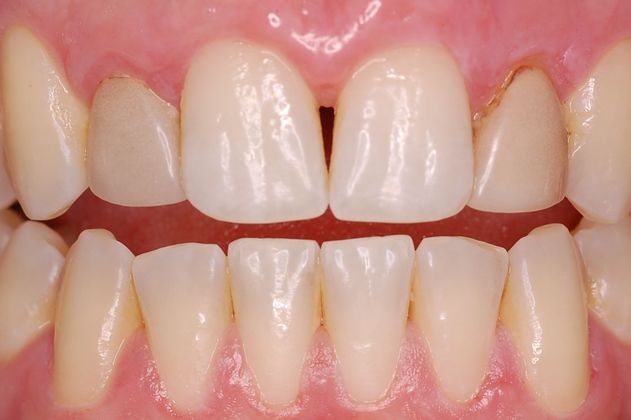 What about No Prep Veneers?
Patients looking for a more conservative way to correct a chipped, poorly shaped, or discolored tooth may qualify for Lumineers. The minimally invasive "no-prep" or "limited prep" veneer can be placed without needing a local anesthetic or significant modification of your natural tooth. Our dentist will just make a few small changes to the contours of the enamel if needed before bonding the Lumineer shell. While the ultra-thin design of a Lumineer prevents the restoration from looking bulky against your teeth and gums, they work best for relatively minor dental imperfections. Meanwhile, Lumineers are reversible, so you do not need to commit to future replacements if you decide the treatment is not for you.
Are There Any Risks Associated with Veneers?
Porcelain veneer treatment poses very few risks when performed by skilled dental professionals. The team at 38th Street Dental uses the latest technology to increase the accuracy of treatment and prevent unwanted complications. Side effects are rare and include dental sensitivity and damage to the deeper layers of tissue. However, sensitivity usually subsides after a few weeks. Our meticulous dentists have decades of experience with porcelain veneers and carefully execute our treatments to ensure your comfort and ultimate satisfaction.