Dental Implants
Losing teeth can have a major impact on the health, function, and appearance of your smile, leaving you uncomfortable and embarrassed.
At 38th Street Dental in Austin, TX, we can coordinate your dental implants treatment to rebuild your smile and restore your confidence.
Why are dental implants recognized as the very best way to replace teeth?
Dental Implants Offer
Unrivaled Longevity and Stability
Designed to Last
When correctly placed and cared for, dental implants can last up to 40 years or more. While your restoration may need to be replaced, the implants themselves can provide benefits for a lifetime.
Improved Bone Health
After tooth loss, the jaw can begin to shrink, causing oral health issues and giving your face an aged appearance. Implants are the only treatment that stops bone resorption and maintains the health of your jaw.
Restored Confidence
With an implant-supported restoration from our team at 38th Street Dental, you can feel secure about the strength and stability of your smile. Dental implants can allow you to enjoy all your favorite foods and activities with confidence.
Dental Implants Have an
Impressive Success Rate
Most Patients Who Are
Missing Teeth Qualify for Implants
Advancements in technique and technology have opened up candidacy for dental implants to virtually anyone. Thanks to modern placement methods, such as the All-on-4® system, these restorations can even support a full denture to replace all of your top or bottom teeth, or both. Dr. C. Mike Meek or Dr. David J. Tasch can assess your candidacy during an appointment at our practice.
What Can Disqualify a Candidate?
Unfortunately, there are certain medical conditions that can undermine the potential success of implants, including:
If any of these conditions apply to you, our doctors may recommend an alternative treatment, such as dentures or dental bridges.
The Benefits of Dental Implants
Far Outweigh the Risks
Dental implants pose very few risks, and over 5 million implants are placed by American dentists every year. Of course, with any surgery, there are always chances of minor complications. To help minimize these risks, Dr. Meek and Dr. Tasch work with surgical specialists including oral surgeons and periodontists to ensure the best possible experience for our patients.
In contrast to the low degree of risk associated with dental implants, the restorations have a number of important benefits.
Advanced Tools & Technology
for Precise, Predictable Treatment
To ensure that you receive the highest quality care, Dr. Meek or Dr. Tasch will refer you to one of the specialists we partner with. Often, you will visit the surgeon right next door. Your specialist will perform a precise procedure to gently place your dental implant or "root replacement." Your doctor will use X-rays, 3-D printed surgical guides, and computerized tomography (CT) scans to ensure the most accurate, safe, and predictable placement possible.
Collaborating with your surgeon, we can often provide same-day teeth. We are extensively trained in the technique of placing teeth on implants the day of surgery and are proud of the fact that our patients do not have to face removable temporary options or have to go without teeth.
A Typical Treatment Timeline
Can Span Several Months
Your dental implants timeline will depend on several factors. Dr. Meek and Dr. Tasch can establish an estimated timeline for you after a thorough evaluation of your smile and oral health history, but here is what you can generally expect:
Step 1: Initial Consultation

When you meet with Dr. Meek or Dr. Tasch, they will review your medical history and evaluate your oral health. This will include a physical examination, as well as taking x-rays and other images. They will evaluate your jawbone health to determine if you qualify for dental implants or if you will need a preparatory procedure, such as bone grafting. At this time, they can discuss the type of prosthetic you will require (crown, bridge, or dentures), and provide you with an estimated treatment timeline.
Step 2: Preparatory Procedures
If you require preparatory procedures, such as tooth extraction or bone grafting, we may need to perform these prior to or in conjunction with the placement of your dental implant. You will need time to heal after these procedures before advancing to the next step in the process. The amount of time needed will vary depending on your oral and bone health. We work with progressive surgeons that are experts at regenerating bone with various bone grafting procedures that can be combined with the extraction and dental implant placement. In many cases, this is also combined with the placement of a temporary crown on the implant so that you will not have to go without a tooth.
Step 3: Implant Placement
Our practice works closely with the skilled oral surgeon next door to our practice for dental implant surgery. This makes the process more convenient for our patients by avoiding the need to travel between locations. Working alongside Dr. Meek or Dr. Tasch, the oral surgeon will carefully plan the precise locations for your implants prior to surgery. In many cases, we will use virtual surgery software to "perform the surgery before your surgery" and generate a 3-D printed surgical guide to ensure safe and excellent outcomes.
When restoring a whole arch of teeth, patients may need anywhere from four to eight implants in the upper or lower jaws. The total number of implants needed depends on how many teeth are missing. All implants are strategically placed to maximize jawbone stimulation and implant stability.
Step 4: Osseointegration
Once the implants are in place, we must allow time for osseointegration to take place. This is a process in which the implants permanently fuse with the jawbone. The exact duration of this process varies from patient to patient, but most cases are ready for final restorations in 16 weeks. We make every effort to make that period comfortable for the active, traveling, and busy lives of our patients. Most cases where teeth are being replaced in visible areas will have fixed temporary restorations to prevent unsightly gaps in your smile.
Step 5: Implant Restoration

At 38th Street Dental, we monitor patients closely throughout the osseointegration phase. Once your surgeon determines that the implants are fully integrated with the jawbone, we can then begin your beautiful, permanent restorations. This involves attaching abutment pieces to the implants, which involves a two-week healing period, on average. We can then take impressions for your final restoration and can begin finalizing your new smile. Once we receive your custom prosthetic from the lab, we will permanently attach the lifelike restoration to the implant abutments.
Our Doctors Will Guide You
Throughout the Recovery Period
Using dental implants to replace missing teeth has become increasingly common over the past 20 years. Consequently, the surgical procedure for placing them is fairly routine and the outcome predictable. Even so, the road to complete healing can be even smoother for patients who understand the facts about dental implant recovery. Dr. Meek and Dr. Tasch of 38th Street Dental make every effort to ensure their patients are prepared for a successful dental implant recovery.
On The First Day
By following a few important post-operative instructions, you can help ensure a safe, positive dental implant recovery.
Plan on resting for the remainder of the day. You should prepare an area where you can lie down with your head elevated. Be sure to have fluids available to drink and soft snacks to eat. Avoid using a straw to drink your fluids, since it can dislodge the newly formed blood clot.
As the anesthesia wears off, you may begin to feel some discomfort. Over-the-counter pain medication can help relieve this discomfort.
Some swelling is normal. The sooner you can apply an ice pack to your face, the better. Continue to apply the ice for the next 24 hours, a few minutes on and a few minutes off.
You can control bleeding from the surgical site by biting down on the gauze the doctor will provide you. Alternatively, you can bite on a tea bag to apply pressure to the site until the bleeding has stopped.
Be careful when chewing food to not disrupt the surgical site. If you use a denture or partial denture, you should leave it out temporarily. Your doctor can help you decide when to start using it again.
Maintaining a Successful Recovery
You can return to work and to your normal routine whenever you feel up to it, perhaps in a day or two. You can increase your chances for a successful, comfortable long-term healing process if you follow a few basic guidelines:
Walking and other mild forms of exercise are fine but avoid contact sports and vigorous exercise and work activities for the first week.
Continue to be cautious when chewing food near the surgical site.
Discontinue taking pain medication as soon as you comfortably can, but take the full regimen of any antibiotics your doctor may have prescribed.
Continue to abstain from smoking and any other form of tobacco use during the entire healing period.
Be sure to attend all follow-up appointments after your surgery. The doctor will want to monitor your healing.
Complete healing, which can take up to six months, should occur in a clean environment. Thus, oral hygiene is especially important throughout this period. Begin gently cleaning the surgical area as soon as you can, even if only by lightly wiping it with damp gauze, and continue to keep your entire mouth clean and plaque-free. If you were prescribed a special antiseptic mouth rinse, use it as directed.
When to Call the Doctor
Recovery after implant surgery is typically complication-free, but if you experience persistent or profuse bleeding, unusually severe pain or swelling, or high fever, contact the doctor immediately. These could be indicative of serious problems that should be quickly evaluated. Likewise, if you see or feel anything abnormal in the surgical area, let your doctor know about it.
See for Yourself:
Before & After Dental Implants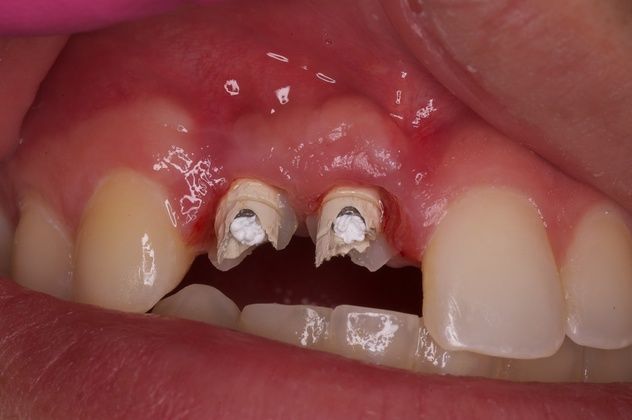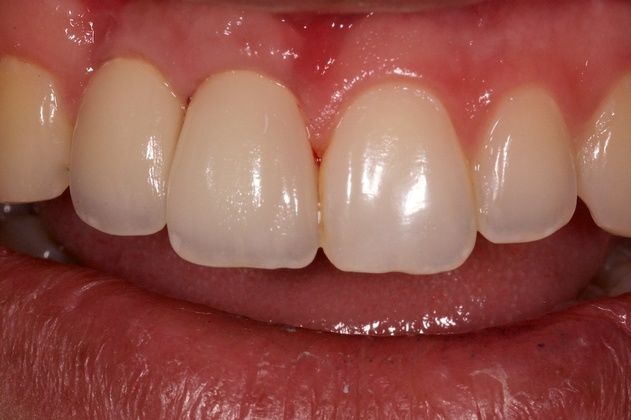 Life After
Dental Implant Surgery
Once you receive your permanent restoration, you will be able to care for it the same way you would care for natural teeth. As always, you should brush your teeth twice daily and floss carefully once per day.
You should also visit our dental office twice every year. During these exams, our doctors can assess the integrity of your dental implants and ensure that your crown, bridge, or denture is in good condition.
Hundreds of Positive Reviews
from Satisfied Patients
"Dr. Meek and all of his associates are awesome. I have been seeing him for several years for general dental cleanings as well as restorative dentistry. He installed four implants and, along with Dr. Widner, did an amazing job."

Kevin F.
4 Factors
That Affect the Cost of Treatment
The total cost of your dental implants will depend on your unique treatment plan. When providing your estimate, Dr. Meek or Dr. Tasch will take several different factors into account:
Preparatory Procedures
If you have suffered bone loss, you may require a bone graft or sinus lift before you can receive implants. These additional surgeries are priced separately.
Number of Implants
Implants are priced separately. Therefore, your costs will be higher if you receive multiple posts but lower if you only need to replace a single tooth.
Type of Restoration
A full denture will cost more than a smaller restoration, such as a crown. We also offer several restorative materials. More advanced options may cost more, but they will typically provide a more realistic appearance.
To Help You Afford Treatment,
We Accept:
CareCredit®
CareCredit is a popular third-party lender that offers flexible, low-interest repayment options for qualified applicants.
LendingClub®
Similar to CareCredit, LendingClub allows you to pay for treatment on a schedule that works for your family's budget.
3 Reasons
Why Dental Implants Are a Wise Investment
Improved Oral Function
Your implant-supported prosthetic will never slip out of place. Therefore, you can enjoy a diverse, varied diet.
Impressively Realistic Appearance
With implants, your restoration will sit right against your gums, and it will be virtually identical to your natural teeth.
Unmatched Convenience
Implant-supported restorations are very easy to care for. You will simply need to clean them as you would your natural teeth. Because of these many benefits, most implant patients are very happy with their investment.
A 5-Star Review
from an Implant Patient
"Great dentist and great staff. Dr. Meek is a perfectionist. All the dental work that I have done is 100 percent perfect. Procedures Dr. Meek has done for me: crowns, implants, cosmetic reconstruction, regular dental care. I'm completely satisfied. Besides, he's a dog trainer on the side. Love this guy and his staff."

David N.
Understanding
Dental Implant Surgery
At 38th Street Dental in Austin, TX, we can coordinate your dental implant surgery with an experienced oral surgeon for successful, long-lasting results. Dr. Meek or Dr. Tasch will work in tandem with your surgeon throughout the process to ensure the best outcome. While our doctors will take every precaution to minimize your risk of complications, you can increase the likelihood of success by adhering to pre- and post-surgical instructions. By knowing what to expect throughout your treatment, you can have a pleasant, low-stress experience.
How to Prepare for Your Dental Implant Procedure
Our Austin team will provide you with a specific list of instructions to follow in the days before your surgery. You will be prescribed antibiotics and pain medications. You may be asked to begin a course of antibiotics a few days prior to your surgical appointment. It is important to take all medications as directed for a rapid recovery. An antibacterial mouth rinse may also be recommended either prior to or after your procedure. This rinse will help encourage a healthy oral environment that can reduce the risk of infection.
You will be able to return home shortly after your procedure is complete, and our team can oversee your recovery to ensure proper healing occurs.
One of the most important things you can do prior to dental implant surgery is to cease use of all tobacco products. Smoking inhibits proper healing and can ultimately result in implant failure. You will also be asked to fast if you are undergoing sedation. Follow your surgeon's directions for a pre-operative diet. During an in-depth appointment we can explain all steps you should follow and when to begin each preparatory phase.
The Dental Implant Procedure
The dental implant placement procedure at our Austin practice is fairly straightforward and much simpler than many patients anticipate. The steps you can expect the day of your treatment can include:
Anesthesia: If you opted for sedation, the calming medications will be administered before your procedure begins. Once the surgical team is ready to start, local anesthesia will be administered to numb your teeth and gums.
Incisions: A small opening in the gums will be made to access the jawbone.
Preparation: The surgeon will find the pre-determined location for your new implant, and gently create space in the jaw for your implant post. Using a series specialized tools, the doctor will prepare the site using precise techniques.
Placement: Once the foundation has been prepared, the titanium implant will be carefully placed into the jawbone. A healing cap, or small screw, may be placed to cover the implant.
Stitches: When the surgeon is satisfied with the position of the implant, the incisions will be closed using either self-absorbing or traditional sutures. The doctor will inform you if your stitches need to be professionally removed.
You will be able to return home shortly after your procedure is complete, and our Austin team can oversee your recovery to ensure proper healing occurs.
Dental Implants Before and After:

Seeing is Believing
Healthy teeth are necessary for an attractive, bright smile, while broken or missing teeth can make chewing difficult. In these cases, dental implants are often the answer. Dr. Meek and Dr. Tasch of 38th Street Dental in Austin, TX, are proud to provide the newest and best technology available to better serve their patients. The outstanding results that our restorations achieve are best visualized by looking at dental implant before and after photos. Our doctors can share these images during your consultation to demonstrate how implants can help restore your smile.
Fractured Front Teeth
Using a variety of methods, the doctors at 38th Street Dental in Austin can skillfully restore front teeth that are badly stained, worn, or chipped. We can also repair discolored restorations through procedures such as teeth whitening, dental bonding, porcelain veneers, and dental crowns.
An implant-restored tooth is strong, permanent, aesthetic, and does not adversely affect adjacent teeth. It is, in fact, almost as good as the tooth it replaces.
However, the best treatment for a fractured front tooth that must be extracted is a dental implant. An implant-restored tooth is strong, permanent, aesthetic, and it does not adversely affect the adjacent teeth. It is, in fact, almost as good as the tooth it replaces. Modern techniques allow dental implants to be placed and restored immediately after extraction, all in the same appointment.
Case 1: This patient's right front tooth was treated with root canal therapy, but it later fractured and could not be restored. The tooth was extracted, an implant placed, and a temporary crown fabricated, all in the same appointment. Our board-certified oral surgeon partner in Austin expertly placed the implant and we restored it with this beautiful crown to keep the patient looking great.
Tooth Loss Due to Trauma
Accidents happen, and when they do, front teeth can take the brunt of the force. For teeth lost due to sports activities, automobile accidents, or other types of accidents, there is no better treatment than a dental implant.
Case 2: This patient was involved in an accident that fractured her right front tooth. By immediately placing a restoration on the newly placed implant, we were able to help her keep an attractive, natural-looking tooth to fill the gap.
Treating Teeth Damaged by Oral Health Conditions
Sometimes teeth can become irreversibly damaged from other causes. One of these is bruxism, the habit of clinching or grinding the teeth. This can sometimes cause teeth to fracture or split. If a broken tooth cannot be repaired, the best alternative is to extract it and replace it with a dental implant.
Case 3: This bruxism patient fractured her lateral incisor, and it had to be extracted. Her central incisors were also damaged by the same chronic problem. By placing crowns on the two central incisors and on the newly placed implant, we were able to maintain her attractive smile.
Implant-supported Bridges
Dental implants are equally appropriate for replacing inadequate or broken fixed bridges. Some or all of the missing teeth can be replaced by implants and the existing bridge crowns replaced with new ones, to produce a strong and highly aesthetic final product.