Patients with missing teeth can experience a host of benefits with dental implants, but not all patients qualify for traditional implants.
Using the All-on-4® method, patients who would otherwise need bone grafting may qualify for dental implants right away.
Dr. David J. Tasch and Dr. Mike Meek in Austin, TX, can perform this advanced dental implant procedure to make you smile again.
What Is the All-on-4 Method?
The All-on-4 method uses four strategically placed dental implants to maximize available support from the jawbone. Like traditional implants, implants placed using the All-on-4 method can stop and prevent further bone recession after tooth loss. Once the implants have integrated with the jaw, they provide a permanent foundation for a fixed denture.
All-on-4® Implants Offer Unmatched Stability
At our Austin practice, we understand that seeing is believing. Take a look at one of our featured cases below to view the results for yourself: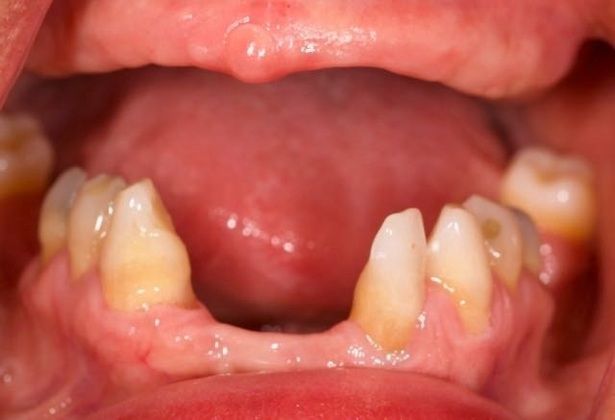 Don't Suffer With Missing Teeth
Schedule a consultation at our Austin dentistry practice today!
Have you looked into dental implants only to wind up feeling discouraged because you were told you would need extensive preparatory work? The All-on-4 method allows more people than ever to take advantage of the amazing benefits that dental implants provide, and we are here to help. Dr. David J. Tasch and Dr. Mike Meek have been in practice since 1997, and have helped many patients start a new chapter of health and confidence in their lives through dental implant treatment. Contact us online today to see if you qualify for this amazing restorative treatment, or call us at:
What Austin, TX, Says About 38th Street Dental
The whole experience was pain free and all of my questions were answered. If you have dentist anxiety this is the place for you, trust me! :)
View on Google
Always a five-star. I've been seeing Dr. Meek for years and he, as well as his office staff, are excellent.

View on Google
At 38th Street Dental in Austin, TX, we offer CareCredit® financing to help make your All-on-4 treatment more affordable. Call us today to learn more about financing your dental treatment with little or no interest.
Qualifying for All-on-4 Treatment
Good candidates for All-on-4 are:
Committed to Good Oral Health
Maintaining good oral hygiene is critical to your oral health. It is important to practice good oral hygiene after receiving dental implants and your denture to not only keep your mouth healthy, but also maintain your beautiful new smile for years to come.
Seeking a Faster Track to Full-Arch Restoration
If you have spoken to a dentist about dental implant-supported dentures only to be told that you will need bone grafting and several months of healing time first, All-on-4 can provide you with a faster solution. Plus, All-on-4 implants can support a denture right away.
More High Praise for Our Austin, TX, Practice
I have to say that the entire office staff is very friendly and professional and that the phrase "I hate to go to the dentist" doesn't apply here.
View on Google
Everyone at 38th Street is so professional and kind. They always listen to my concerns, and give me the BEST treatment plan, that I can afford.
View on Google
We Perform Advanced Dental Implantology
While Keeping You at Ease
We understand that dental phobia may cause certain patients to avoid getting the treatment they need to achieve a healthy, beautiful smile — especially when there's surgery involved. Fortunately, we offer sedation dentistry to keep our patients at ease every step of the way. Our sedation options — including oral sedation and nitrous oxide — can be ideal for those who are anxious to visit the dentist or undergoing several dental procedures.
For more information about how sedation dentistry can fit into your personalized treatment plan for getting All-on-4 dental implants, reach out to our Austin, TX, practice today.
What to Expect During Your All-on-4 Treatment
A Complete, Functioning Smile
With Dental Implants
Need Help During Your Recovery?
Contact Our Austin Practice Anytime!
Although rare, if you experience significant pain during recovery that cannot be managed at home, please call our Austin, TX, dental practice immediately. We will get you in as soon as possible to evaluate your healing and determine if there is an urgent problem.
Our office is also happy to answer questions about the All-on-4 process before and after your treatment. Don't hesitate to contact us after your surgery with concerns or questions. We are always happy to help.
Contact our Austin, TX, practice today to get your All-on-4 treatment started.
What Patients Have to Say About Our Top-Notch Care
Can't say enough about this practice … they are definitely top notch! And pricing is very reasonable as well. Thanks!
View On Google
Dr. Meek is fantastic as are all of the other staff!! I received wonderful care and attention throughout my visit. 5++stars

View On Google
Our dental team will provide you with the instructions you need to properly care for your new smile.
How Long Do All-on-4 Implants Last?
With proper care, your dentures can last around ten years, but your dental implants can last a lifetime. Maintaining good oral hygiene is the best way to extend the lifespan of your implants and restoration.
Can I Eat Normally After All-on-4 Treatment?
One of the major benefits of dental implants is there is no risk of your dentures sliding out of place while eating or speaking. Once your implants have fully healed, you can eat virtually anything, even hard, sticky, and crunchy foods.
How Painful Is Implant Surgery?
You should feel little to no pain during the procedure due to the local anesthetic and sedation. It is normal, however, to experience pain in the three to five days following your procedure. Any discomfort following surgery can be managed with over-the-counter medications or by following your dentist's instructions.
Do All-on-4 Implants Feel Bulky?
Dental implants become a permanent fixture in your mouth and act as a sturdy base for your life-like dentures. Unlike traditional dentures that can easily slide out of place, implant-supported dentures stay firmly in place and feel natural. Your new smile will look and function like healthy, natural teeth.
So I Don't Need One Implant Per Missing Tooth?
It is a common misconception that each missing tooth requires its own implant, but that is not the case. Fortunately, replacing teeth with dental implants doesn't have to be a 1:1 process. An entire denture on the upper or lower arch can be supported with as few as four implants when you choose a distinguished and reputable practice.
5-Star Reviews For Our Austin Dentists
I'm in the process of getting and implant (everything's great so far) so I decided to get a cleaning. Best cleaning service I've received... Very pleased and highly recommend Dr. Tasch's office.
View on Google
Dr. Meek and staff are the absolute best. I trust him implicitly. He always shoots straight and always has his patients' best interests at heart. So grateful to be cared for by this team!
View on Google