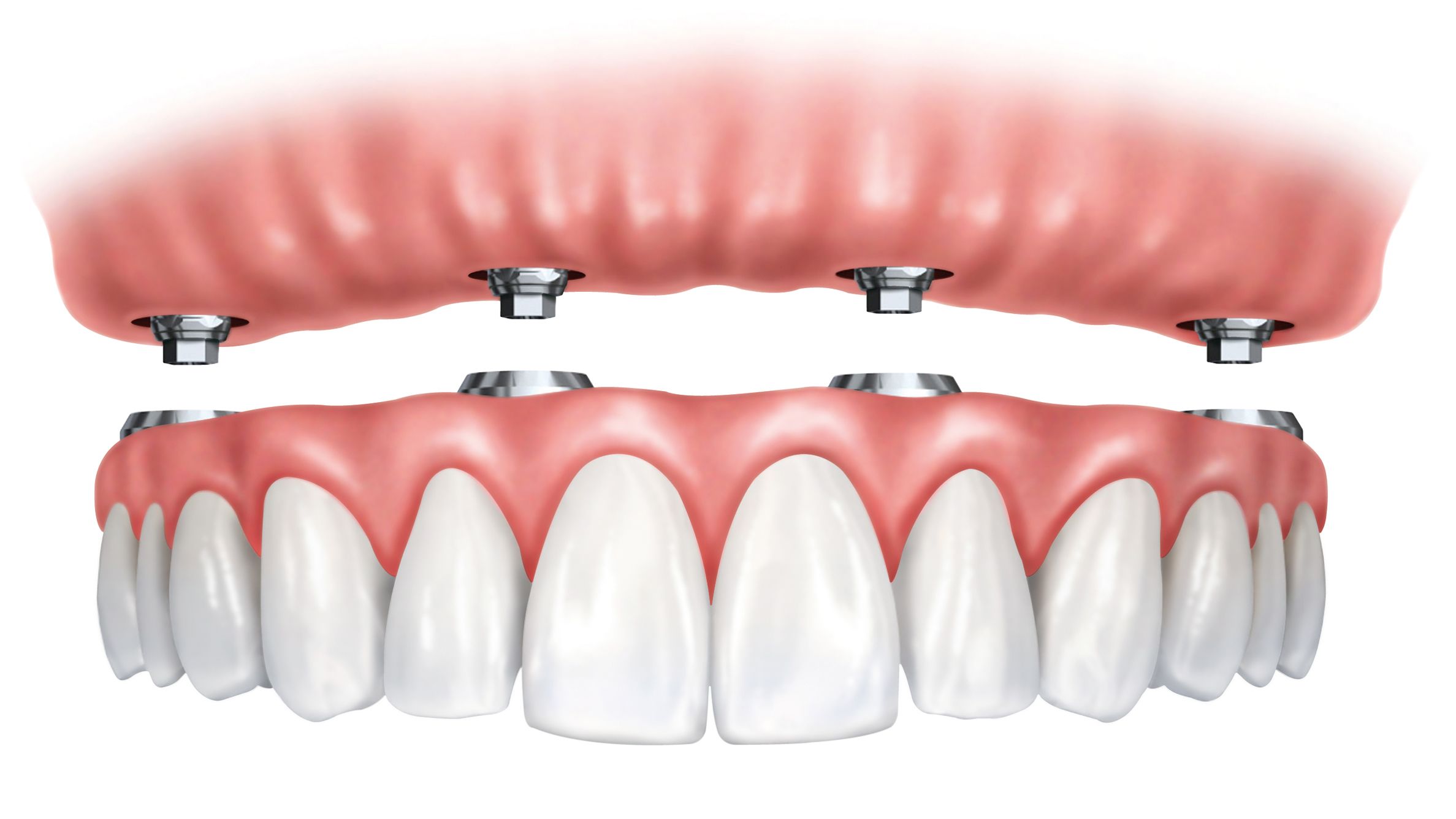 People missing all of their teeth may want to consider dentures anchored by All-on-4® dental implants. Thanks to the innovations of All-on-4, a full denture can be supported using only four precisely placed dental implants. This is far fewer than other methods of anchoring a full denture in place with dental implants. Austin, TX dentists Dr. C. Mike Meek and Dr. David. J. Tasch can let you know if All-on-4 is right for you.
Many people interested in All-on-4 wonder about the recovery process. The team at 38th Street Dental would like to take a moment to consider some of the basics when it comes to healing from All-on-4 treatment.
The Process of Osseointegration
Like traditional dental implants, the process of osseointegration will need to take place. Osseointegration is when the dental implant fuses with the natural jawbone structure of your mouth. This ensures total stability similar to that of natural tooth roots.
Thanks to osseointegration, the denture will be unlikely to come loose. The jawbone will also not experience a loss in bone density, which is a common problem following tooth loss.
How Long Does All-on-4 Recovery Take?
That can vary from patient to patient. With traditional dental implants, the overall healing and osseointegration process can take as long as eight months or more, though All-on-4 is typically much faster than that. This is because of the optimal placement of the dental implants.
When you visit our Austin dental care center, we will be able to provide you with a custom recovery timeline.
Resting After All-on-4 Oral Surgery
After getting All-on-4 implants placed, patients are advised to take time to rest. This means engaging in just light physical activity for the first 72 hours after the surgery. You may want to consider taking time off from work, though this can be discussed during the consultation process. The nature of your job will determine if this is a good idea.
Slowly Returning to Normal Exercise Routines
Heavy lifting and strenuous exercise should be avoided for the first week after your oral surgery. This will give your body time to heal and prevent placing too much stress on the jawbone and dental implants. After the first week, you should be able to return to most forms of moderate exercise based on the advice of your dentist.
You can go on walks and so some light stretching to help promote circulation and stay a little active while recovering. This is helpful for people used to leading very active lifestyles.
Changing Your Diet to Help with Healing
In order to prevent discomfort while you are recovering, it's important to adjust your diet. Patients are asked to eat soft and liquid foods for the first three months after getting All-on-4 dentures. This will reduce pressure on your dental implants as they are healing and tender and ensure the osseointegration process is not negatively affected.
Recommended foods during this time include:
Applesauce
Mashed potatoes
Oatmeal
Yogurt
Soft meats
Scrambled eggs
Tofu
Soups with soft ingredients
Smoothies and protein shakes
Gradually you'll be able to reincorporate harder foods back into your diet. It's important to take things slowly. If you notice any discomfort when biting down on food, avoid that type of food until it no longer hurts to consume.
Learn More About All-on-4
For more information about All-on-4 and whether or not it's a good option for you, be sure to contact our experienced cosmetic and restorative dentists. The team at 38th Street Dental can be reached in Austin by phone at (512) 458-6222.
Related to This