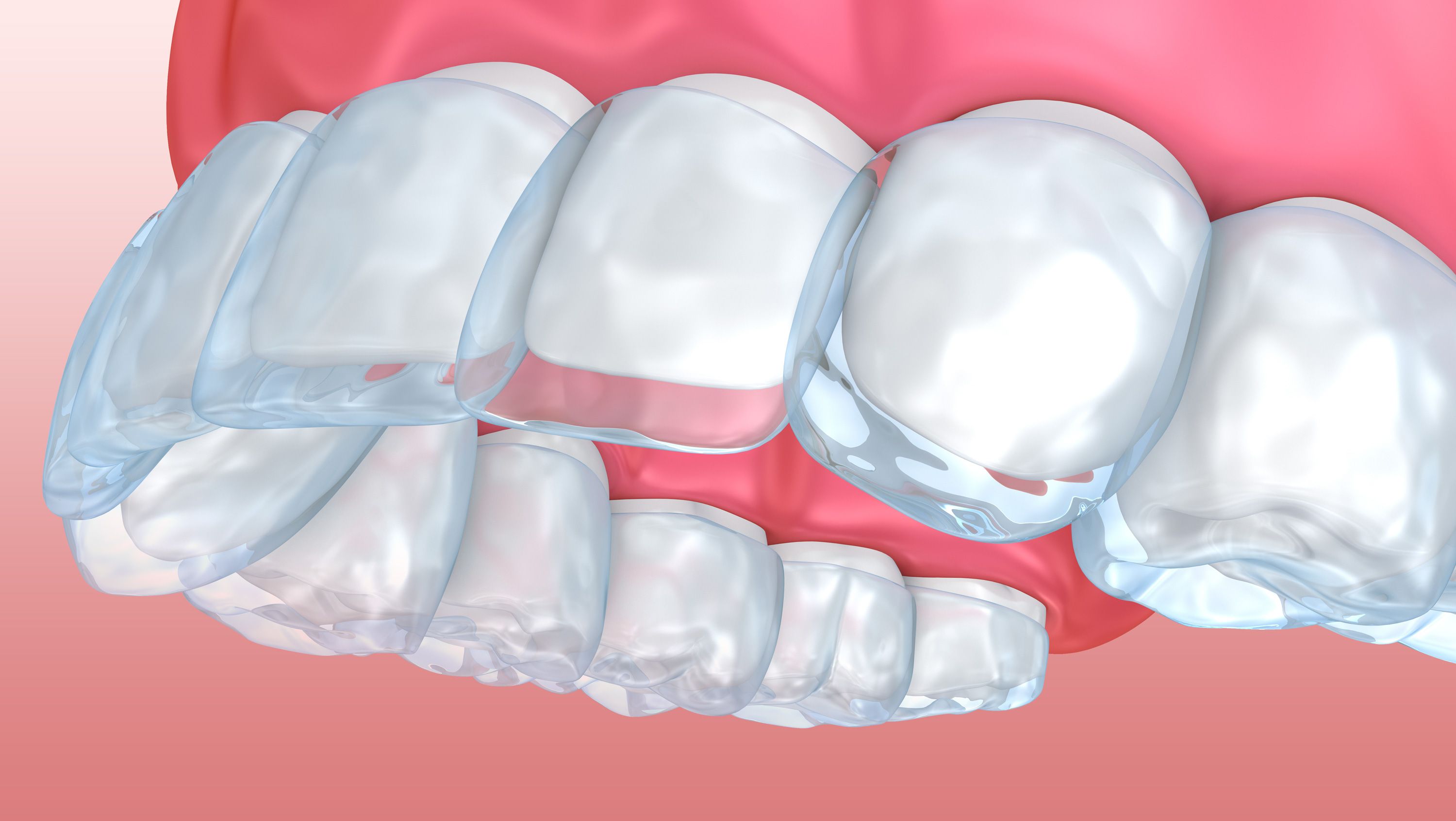 If you have crooked teeth, the go-to treatment of the past would have been braces. However, there are may other options out there for treating crooked teeth. Consider Invisalign®, an invisible alternative to metal braces and traditional orthodontics. It is an extremely popular orthodontic treatment option here at 38th Street Dental, and has helped people throughout Austin, TX achieve straighter and healthier smiles.
Dr. C. Mike Meek and Dr. David. J. Tasch would like to consider how Invisalign® trays can help treat overbites. Let's consider why overbites are a serious issue first and then get into the uses of Invisalign®.
What Is an Overbite?
An overbite refers to the amount of vertical overlap that the upper teeth have over the lower row of teeth. While a slight overbite is healthy, a major overbite could be the source of numerous dental problems.
The overbite is often confused with the overjet, which is another issue associated with an overbite. An overate occurs when the upper teeth project further forward ahead of the lower teeth. Again, a slight overjet is generally healthy, but a major overjet can lead to a number of problems.
Problems Caused by an Overbite
If you suffer from an overbite, it can throw off the aesthetics of your smile. Too much overlap of the upper teeth over the lower teeth can leave your smile looking severely flawed, causing self-consciousness in the process.
An overbite can also cause a number of problems with dental alignment. Biting and chewing can be uncomfortable, and lead to excessive wear on the teeth over time. An overbite can also contribute to teeth grinding (bruxism) and an eventual TMJ disorder.
How Invisalign® Can Help
Invisalign® is an invisible alternative to traditional braces. Thanks to Invisalign®, patients can experience the benefits of orthodontic care without the hassles of brackets, wires, and bands that come with wearing braces.
Thanks to Invisalign®, the position of the upper teeth and lower teeth can be gradually adjusted. This can address issues with overbites and overjets, improving overall dental alignment and enhancing the health of your smile in the process.
Ideal Candidates for Invisalign®
Good candidates for Invisalign® are people whose malocclusion is predominately the result of tooth position. If jaw position and/or the bone structure and shape of the upper palate are the reason for the overbite, other treatment options will be better suited to address your situation.
During the consultation process, we can assess your situation and determine whether or not Invisalign® is right for you. If Invisalign® is not ideal for your needs, we can talk about the use of braces, palatal spacers, or even oral surgery to help correct your dental alignment.
The Results of Invisalign® Treatment
The overall results of Invisalign® for overbites are quite excellent. Patients experience straighter, better aligned smiles. The upper teeth will no longer overlap so much over the lower teeth, and long-term dental health issues such as bruxism and TMJ disorders can be alleviated.
The best part is that these benefits are achieved without brackets, wires, or bands. Patients can smile without self-consciousness and eat their favorite foods the entire time they are undergoing orthodontic treatment.
Learn More About Invisalign®
For more information about Invisalign® and how it can benefit you, be sure to contact our team of experienced cosmetic and restorative dentists. The team at 38th Street Dental is here to help. You can reach us by phone at (512) 458-6222.
Related to This